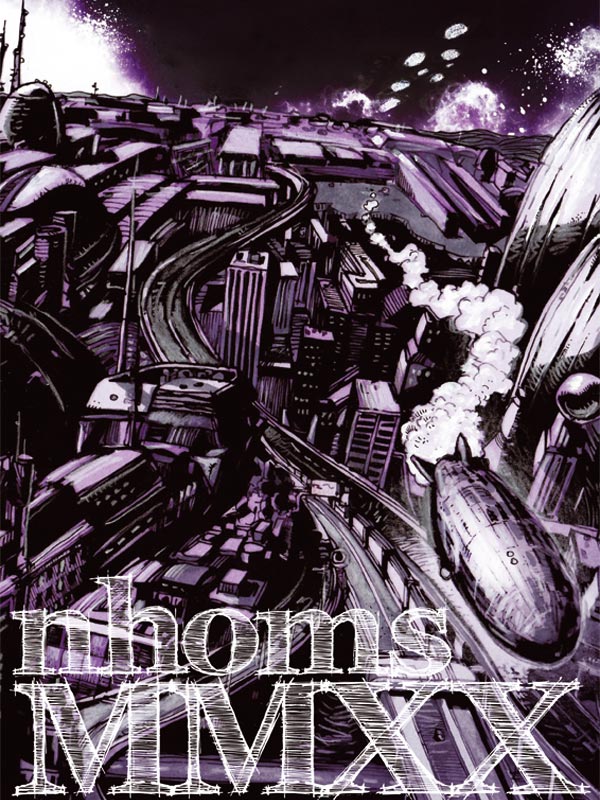 MMXX
Concept
MMXX is the second album of the Austrian band NO HEAD ON MY SHOULDERS. It is a concept album that is set in Vienna in the near future of the year 2020 where it tells a parable on the current socio-political situation.
The songs are captivating short stories out of the lives of different people, whose conflicts an problems result out of social structures and political context.
The music of NO HEAD ON MY SHOULDERS effortlessly overcomes genre limits and takes the listeners on a roller coaster ride through amazingly varied and sophisticated arrangements. Quotes in music and lyrics link the plots to current political and cultural events and loosen up the graveness of the stories with ironic and satiric elements.
Setting
The story is set in Vienna of the year 2020. After a big crisis the city is deeply divided. Facing each other are the conservatives, which had political and financial power before the crisis and want back their authority and the so called Glorious Nine (G9), a group of independently and autonomously thinking Individuals that want to bring about real change.
The story is told in the nine core-songs of MMXX. They deal with the great topics of the 21st century like surveillance society (Operation Toothbrush), migration policy (Persian Beauty) or the manipulation of the masses by the media (The Pill). Keywords like social exclusion, propaganda or the Fortress Europe are being looked at concerning their impact on the different protagonists. A bleak image of the near future emerges. Instead of a technologically advanced environment we encounter an end time vision of Vienna.
Production
The album was produced by GURU, Martin Schiske and Florian Fennes. We aimed for the highest possible quality in each production-process. The music was recorded and mixed mainly analogue and no Samples were used. Everything you hear, from Saz to tubular bells was recorded in the studio. So additionally to the nine band members ten guest musicians can be heard on MMXX. The four single-edits were made by Wolfgang Schlögl (I-Wolf, Sofa Surfers). The 50page booklet in the format 21x21cm was designed by Jörg Vogeltanz and contains nine comics by nine different Austrian comic artists to add a visual dimension to the nine core-songs of MMXX.
MMXX TEAM
MMXX is a project of superlatives (for us, that is). And although we are already nine, we would never have been able to realise it without these wonderful, creative, motivated and idealistic people. Ladies and Gentleman: the MMXX-Team!
LIVE:
Stage Direction - Thomas Schöndorfer
---
Thomas Bernhard Schöndorfer, born in 1982. In early school years he already participated in filmclasses and movie-projects. In 2001 he moved from provincial Salzburg to mondane Vienna where he studied Theatre- Film- and Mediascience at the University of Vienna and took several classes at the Wiener Filmakademie as well as at the Universität für Angewandte Kunst. While studying he realised several smaller Movie-projects, worked as usher and stage-worker at the Ronacher, absolved internships at Oper Klosterneuburg, Volkstheater Wien and others and organised Parties in the Vienna Club-Scene.
Since 2005 he is assistant director at the Volkstheater Wien, where he has worked with numerous directors such as P. Schlösser, N. Calis, K. Hiller, St. Müller, D. Berner, E. Muschol, M. Schottenberg,V. Schubert and others. He also produced Videoclips for the following plays: Der Besuch der Alten Dame, 2008, R: A. Kubelka, Alles über Meine Mutter, 2009, R: A. Uitdehaag. In the season 10/11 he did his first work as a director with the play "Monsieur Ibrahim und die Blumen des Koran" which was playd in the Empfangsraum of the Volkstheater.
Since 2010 he runs the label "Schönbrunner Perlen" and organizes the Partylines "Klub Fraktal" and "Schonbrunner Techno" in different venues all over vienna.

COSTUME - Laura Tanase
---
Laura Tanase was born 1983 in Bukarest, Rumänia. At the age of eight she moved to Upper Austria. She studied at the Kunstuniversität Linz Textil – Kunst & Design and at the École Supérieure des Beaux-Arts in Marseille.
Besides for the theatre, Laura Tanase also produced costumes for dance and special performaces. Her main intrests lie in fashion, costume and screen printing as the main technique for the realization of her works.
Fashionperformances / Exhibition patizipations: 2003 "GRENZEN" – Landestheater Linz / MAK Night, Wien 2004 DESIGNPFAD; Salesexhibition 2005 "LUSTGARTEN" – fashion, costume- and danceperformance at the Botanische Garten Linz 2005 Partizipation "HUNT – oder Der Totale Februar"; Theater im Hausruck 2005 LEONART 05 – exhibition; Leonding, Oberösterreich 2006 "Mode nach Maß" – fashion show, Casino Linz

VISUALS - Lampenschirm
---
Since "Die Kunst der Überwachung" ("The art of observation") in April 2010 part of the big bang theory. In the beginning there was light. Analog and digital. Dedicated to installations, , 3-D and to form. Space as playground and the the consumer as toy of the lights.
STAGE DESIGN - Sanjin Dzaferovic
---
Born 1979 in Bosnia. Evacuation out of Sarajevo to Villach in 1992 due to the war. After finishing the HAK he moved to Vienna in 1999 and started to study architecture. During his years of study he worked as a stagehand at the Volkstheater Wien, at a carpentry in development and construction (stage design for theatre, installations for the Wiener Festwochen and the football EM in Austria) and several other, poorly paid jobs, you can get without a working permission.
2005 house restauration in Oakland, California 2008 construction manager deputy at the construction site of the Deutschen Theater Munich. Seit März 2009 working at a viennese architecure firm. Seit März 2011 Diplom Ingenieur for Architecture

STAGE DESIGN - Jeremias Altmann
---
Drawing – Print – Wall paninting
"Creative Expression has always been one of my main concerns. Since 2010 I am studying Graphics and Print at the University of Applied Arts Vienna to enhance my ability of "making pictures". Besides my studies I have benn passionately practising the art of wall painting for several years. The contrast of different formats, contents and techniques preserves the appeal of my idea of drawing. When I'm not drowning head over heels in my own projects and ideas, I like to help other lunatics in their demise."

SOUND - Stefan Kubalek
---
Stefan Kubalek - VST, TT, LSB and PT
born 14.08.1978 in Vienna.
For further Information please contact the band or the described himself. He is obviously very arcane.
LIVE-VIDEO - Traum & Wahnsinn
---
"Our mutual fields of work with Traum&Wahnsinn are characterized by two main focus points. One of them are courses and trainings in media competence for youths and adults the other is the realisation of marketingprojects, commercial ideas, image-, and music videos or short films.
Working with different people, the "new media" as a pedagogical form of expression and as a support for presentations, as well as years of experience in a pedagogic context are important factors of our collaboration."
STUDIO:
PRODUCER - GURU
---
For many years sideman for differnt Austropop-acts. His actual carreer starts 1996 as frontman of the heavy-metal-quintet StMarX who perform their songs in german. After two releases the band breaks up and a creative break follows, in which he takes the artistic direction oft he Hallamasch Festival der Kulturen. 1999 re-enty as producer and bassplayer with Mercalli Siberg Since 2001 producer, composer and bassplayer/singer with The 05. Producer of numerous acts, such as Plexus Sulaire, No Head On My Shoulders or Big John Whitfield. Also performing as Mr. Billy Rubin in the Jazztrio of the same name and under his real name. Concerts from Bologna via Bimingham to Berlin and Breitensee. Releases in Austria, Germany, England, Spain, Portugal France and the far East. Soundstudio in the 13th district of Vienna, windows face south. Since 2008 Master of Arts in musicmanagement. Published book: "Musik und Web 2.0" Published albums: too much to be mentioned here
Links: GURU Billy Rubin Plexus Solaire Musi.cc

MIXING - Werner Angerer
---
Born 1980 in St.Pölten. Since the age of ten lessons in classical and electrical guitar and participation in different band-projects. Studied sound engineering at the Univeristy of Music and performing Arts Vienna and received his Master of Arts with destinction.
Since 2003 he is the head of the WUK soundstudios as wall a spart of the WUK live-sound-crew and works as a freelance sound engineer in different musical genres. Since March 2005 he significantly took part in the organisation oft he first Jazzwerkstatt Wien festival and is to this day the main sound engineer for all concerts and recordings o Received his Master of Arts of the group.
Since 2009 intensive cooperation with the Soundstudio Recordable and foundation of the Acoustic Art Studios KG. To this day he worked on over 100 CD-productions and is the sound engineer of Nouvelle Couisine, Studio Dan, Jazzwerkstatt Wien, Mondscheiner (2008-2009) and Lorenz Raab XY-Band.

MASTERING - Michael Haider
---
AlphaMastering today is one of the best equipped masteringstudios in Austria.
The exeptional acoustics and more than ten years of experience can be heard in all of their productions.
MEDIA:

PHOTOGRAPHER - Marco-Christian Krenn
---
"I'm Marco Christian Krenn a photographer and web designer from Vienna, Austria. I specialized myself in Portraits and Music Photography. Each photo is made to reflect and connect to the persons in the photos."

DESIGN - Die KAZ
---
DIE KAZ. Design und so.
If cats could write there would be a very long and really great text for you to read here. But KAZ can make graphic design and that she can do really well.
WEB - ~einewelle.net
---
~einewelle.net is a young company offering services in the fields web, IT, multimedia.
The company focusses on personal support in all stages of a project, i.e. a website: concept, design, development, hosting, administration, servicing, updating/upgrading, etc. For every project, there's a dedicated single person responsible and known to the client. ~einewelle.net works (among others) for small companies, institutions and artists
Interested?
email_@einewelle.net
COMICS
Consequentely following the genre-crossing idea of our music, we worked together with nine different austrian comic-artists for the realization of the booklet to MMXX. Now, apart from the ear-, there's also some eyecandy in form of a 50 page, 21x21 cm Comicbook that comes along with the album. Cover and artwork were designed by Jörg Vogeltanz. The nine comics tell the stories of the songs - some of them precisely, some of them abstract - and thus give them an additional dimension.

Hubert von Epenstein - Anna Maria Jung
---
Anna-Maria Jung, born 1984, is a freelance illustrator and comic-artist and at the moment studies illustration in NYC. Recently she is also involved in shirt-desing.

Operation Toothbrush - Andreas Unterkreuter
---
42, lives in Lienz, Osttirol. Apart from illustrations for commercials he likes to draw comics. for example for <www.comicsgegenrechts.at> or <www.murmel-comics.org>.

Persian Beauty - Erik R. Andara
---
Born 1977, lives and wokrs in Vienna. Painter and comic-artist. Draws for the austrian independent-comic FRANK.
http://ravendawn.wordpress.com

The Great Anton Balloni - Dobroslav Houbenov
---
Born 28.12.1980 in Sofia, Bulgaria. Grew up in Vienna. Since 2008 he studeis at the Univeristy for applied Arts with o. Univ.-Prof. Mag. art. Sigbert Schenk. Exhibitions in Vienna, Krakau, Sofia and Tokio.

Good Side of Town - Andreas Paar
---
Born 14.2.1986 in Poysdorf im Weinviertel and has been drawing "since always". After his education at "die Graphische" he decided not to work on the field of grafic-design but to follow his dedication and currently works as a freelance illustrator and comic-artist. Apart from the monthly comicstrip "Top Ten" for the schoolmagazine "Topic" he took part in different comic-projects like the "Kriminal Journal" and the spin-offs "C.S.Ei Meidling", "Essen wie im Häf'n" and others.

The Pill - Thomas Kriebaum
---
Born 1968 in Vienna. Certificates of several schools. Since 1992 mainly occupied with funny drawings. Draws the "Gustl-Strip" in the street-nwpaper Augustin. Recently his book "Live - a manual" was released at Luftschacht.

Dark Side of Town - Robert Maresch
---
Born 1963 in Lower Austria. Illustrator for commercials. Co-funder of "Kriminal Journal", home for the bigger part of the Viennese comic-szene and "the rawest fun in town", which he has been publishing together with Walter Fröhlich since 2004. Amongst others he created the "Geilen Hühner" and "Jerry die Schabe".

The Box - REO
---
Behind the alias REO hides Dr.Walter Marder, born 1962 in Ternitz/NÖ. Chosen to study national economics by hes stalinistic family he manages to get his degree but looses every believe in Marxism over the lecture of the "Tropismes" by Nathalie Sarraute. Works as an archivar in a public institution.

Prison Break - Jörg Vogeltanz
---
Born 1963. Stage designer, illustrator and drawer. Publisher of the comic-edition "Prequel" with missionary character. Writes for the online-magazine Outfit.
Opinions on MMXX
Christian Kolonovits
---
"In my opinion NO HEAD ON MY SHOULDERS' MMXX is great, musically pleasingly new, yet fully developed and mature. A real pleasure for the ears!!!"
Günther Wildner (wildner # music)
---
"NHOMS love and live the large format. With MMXX they mount a huge creative screen for the big cinema of their remarkable and mind-blowing music."
Toph Taylor (Trouble over Tokyo)
---
"MMXX is what the brain of Frank Zappa would sound like if it was rebooted and fed, "The Matrix"-style, all of the known musical genres in the world. It's a concept album of epic ambitions set in the bleak future, pitting good against evil and throwing in some kick-ass musical acrobatics along the way.
File under Rock / Pop / Ska / Opera / Reggae / House / Alternative / World music / Folk / Eastern / Western."
Wolfgang Schlögl (I-Wolf, Sofa Surfers)
---
"With their new album MMXX the multitudinous Viennese Band NO HEAD ON MY SHOULDERS definitely separates itself from any role models and delivers a dazzling display of genres, melodies and musical craziness that is set somewhere between the hard-core of Mike Patton the freaky perfection of Frank Zappa and the big festival-stages. The fusion-rock-bigband has shaken off any genre-bonds and merrily soars all musical seas. They don't bow to the boring dictate of different scenes, but instead defy any restrictions and create a real bombshell of an album along the way!"
Andreas Felber (Musikjournalist)
---
"It is a fact that the time of postmodern material-patch workers is long past. Nevertheless: NHOMS arouse the ears' appetite. In the best songs there is a lot of eclectic nutrition for impatient ears, sensually shaped into songs full of surprises. There is trashy retro-charme that gives the listener the impression to be beamed back into different decades of the last century simultaneously. And there is the intoxicating intensity of musicians that gaily follow their own imagination and with every note know exactly, what they are doing."
Hannes Löschel (Musiker, Komponist)
---
"Krocha-opera or mini-rock. Junkfunk or Tommy. Hair or BalkanBrass. With their enthralling concentrations of antagonisms like this or similar ones, NHOMS create a new matter of course, maybe even a genre (like the "junk-melodrama"…) or a new form (a kind of avant-garde rock-song-suite…). In any case they make a very exciting contribution to the reanimation and reassessment of the interdisciplinary "step across the border".
Birgit Denk (DENK, Musikmagazin "Aufdraht" auf OKTO)
---
NO HEAD ON MY SHOULDERS know, what they are doing. They have presented an opus that seamlessly continues the line of the popular concept-albums of the 70's. A very unique and independent sound prepares the ground for stories that are far beyond any Balkan, Brass or Jump-Songs. Distinctive and with a lot of passion for detail they sing, gurgle, tootle and rumble. An album to be listened to!"
Daniel Riegler (Musiker, Komponist)
---
"Yes, in my opinion that's how big you have to think, when you're creating something. More is more, so to speak. Clear case: VERY great!"
Reviews:
Planet.TT Nr.4 Herbst 2011-10-09
---
If there was justice, this Viennese fusion-rock-big-band had to be put on a par with other musically loony virtuosos like Frank Zappa or Mike Patton. The listener takes to an intoxicating rollercoaster ride, that displays a wide array of genres, craziness and melodies. The lyrics, too, are worth of some attention. "MMXX" is a concept-album set in Vienna in the near future, where it tells a parable on current political and sozial problems. A must-have! (alexander@planet.tt)
Concerto NR.4/2011
---
Musically the band has always been by no means headless, as the band's name might suggest, but instead unscrupulous and anarchic. Now the best, most crazy Austrian band raises the bar and on top of their manic back and forth and up and down ska, funk-, swing-songs adds a wonderful 48page, 21x21cm intricately designed comic-book drawn by nine well-established Austrian comic-artists. May download the songs, whoever wants to, without the book it's just half of the story. Music and book look into the year 2020 (hence the title MMXX in Latin numbers) and tell a story of a Vienna, that is split into a good and a dark side. Fortunately there's the "Glorious Nine" to save the day… A huge, amazingly ambitious opus that took the nine musicians almost five years to complete. Exhausting and fun and, if you get into it, exquisitely entertaining. (nick)
MICA online - Mi, 20.07.2011
---
The Viennese combo NO HEAD ON MY SHOULDERS is a band that never fit into a single genre and surely not after the release of their new and really strong album "MMXX" (Miscellaneous records). What the nine-piece band delivers with the support of some fellow musicians is probably the most exciting and most varied interpretation of rock music, which you could hear by a local combo in the recent past. Wonderfully arranged and highly energetic songs, intoxicating and inspiring. Definitely "great cinema".
Songs, which according to the press release also manage to inspire people like Christian Kolonovits, Toph Taylor (Trouble over Tokyo) Hannes Löschel, Birgit Denk, Wolfgang Schlögl (the sofa surfer contributed four radio edits) and Daniel Riegler in the highest degree, must probably have that certain something. And they do. Here are musicians in the works, which give little or even no significance to the boundaries between different styles and forms. No head on my shoulders follow their distinct and far off any mainstream thought set thing without looking left or right, and design an overall sound, which hardly can be more complex and follows the opulent art rock designs of the 1970s.
The nine musicians [...] celebrate the fine art of crossover and merge elements of alternative rock with those of ska, punk, reggae, country, funk or world music with such an inimitable matter of course, that it is a real pleasure. What comes out in the end are highly varied and beautifully arranged songs that not are a moment are in danger, to stay on the surface. What is also due to the fact that the group is sceptic in the contents of their songs and in short stories covers current and explosive socio-political topics.
"MMXX", produced by GURU (Billy Rubin Trio), is equally an album for the brain, the mind and the legs. No head on my shoulders are not trying to correspond to any currently successful movement, but rather they pursue their own path which is highly self-contained, very self-confident and has a high recognition value. Let us hope that you get to hear a lot of this exceptional combo in the future. (mt)